Fox run storage sheds - Chicken Coop
Only our backyard chicken coops are handmade to order by our own Amish carpenters. We use only first quality materials and take pride in our attention to detail and old-world worth ethic in the production of our structures.
Our chicken coops have always been built for durability and bird safety. Our coops will house many
generations of chickens and deter predators.
Vinyl coated wire mesh over screens
Metal latches and hinges
5/8" solid plywood flooring and roof sheating
And more....
All our coops and kits are guaranteed to be free from defects when they leave the shop. We promise to take immediate and reasonable action to correct or repair any damages that may occur in transit.
In addition to these coops, we can customize and convert a shed into a coop to meet your needs. Coops can be accessorized with a chicken run, electrical package, glassboard floor, waterers, feeders, or even solar powered dusk to dawn chicken door. Stop in and see what we can do to meet your chicken needs!
You'd be hard pressed to find a better-made, better-designed coop for the money!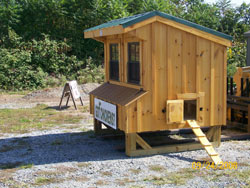 Call for Pricing and Options!
Available colors for chicken coops siding and roof:
Cedar Stain Siding

Clear Stain Siding

Country Brown Stain Siding

Mushroom Stain Siding

Siding Colors

Metal Roof Colors